CFP: Turning Your Conference Paper Into A Publication
Popular CultureAmerican Culture Association Writers Workshop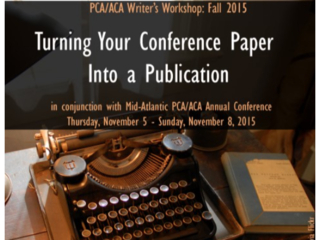 Professional Development Writers Workshop
November 5th-November 8th 2015
Drexel University – Philadelphia, Pennsylvania
Deadline for submissions is August 15,2015, and decisions will be made by September 1st, 2015.
The
Popular Culture/American Culture Association
PCA/ACA has made a valiant effort to showcase the talents of many members. This has certainly been the case in regards those with literary interests. There has been no shortage of interest among organization members to share their work with others who harbor similar interests. This fall the Popular Culture/ American Culture Association is hosting their second writers' workshop in Philadelphia, PA at Drexel University.
The workshop will be dedicated to exploring all areas of Popular Culture and American Culture. All workshop attendees will present their papers at Mid-Atlantic Popular Culture/American Culture Conference on Thursday, November 5th, 2015. Participants will then spend the next two days rewriting, critiquing, listening to other authors and participating in a workshop to turn those conference papers into publishable essays by Sunday, November 8th. Applicants who are selected to participate in the workshop will have their essays published with Intellect Publishers.
The cost of the workshop includes: registration, hotel accommodations and fees.
Please submit your conference papers and manuscripts that are no more than 6000 to 8000 words in length to Elwood Watson at
watsone@etsu.edu
. Submissions should be sent in Microsoft Word .doc/.docx format ONLY via e-mail attachments.