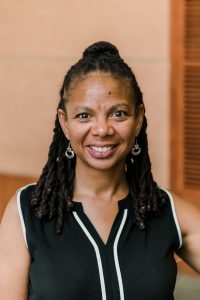 Dr. Kimberly R. Moffitt (kmoffitt@umbc.edu) is Dean of the College of Arts, Humanities, and Social Sciences, professor of Language, Literacy & Culture and affiliate professor of Africana Studies. Her teaching interests include culture, media studies/criticism, Black hair and body politics, sports and media, and popular culture.
Dr. Moffitt's research focuses on mediated representations of marginalized groups as well as the politicized nature of Black hair and the body. She has published five co-edited volumes, including Michelle Obama and the FLOTUS Effect: Platform, Presence, and Agency (Race, Representation, and American Political Institutions) (Lexington Books, 2019), Gladiators in Suits: Race, Gender, and the Politics of Representation in Scandal (Syracuse University Press, 2019), Blackberries and Redbones: Critical Articulations of Black Hair and Body Politics in Africana Communities (Hampton Press, 2010), The Obama Effect: Multidisciplinary Renderings of the 2008 Campaign (SUNY Press, 2010) and The 1980s: A Transitional Decade? (Lexington Books, 2011). Additionally, Moffitt has also published her work in academic journals and several edited volumes. Her current research projects continue to explore the black body such as her work exploring white femininity in Disney's The Princess and the Frog and the representations of Black males on Disney television programming. She extends her research interests into the community by offering workshops on Black hair and body politics as it relates to bullying among middle school girls.
Dr. Moffitt often writes op-ed articles for the Baltimore Sun and is a frequent guest on local public radio and Internet broadcasting programs. She is a member of the public service sorority, Delta Sigma Theta Sorority, Inc., and the founding parent and former board member of Baltimore Collegiate School for Boys Charter School, a 4th-8th college preparatory school.