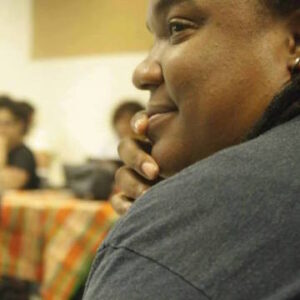 Dr. Tanya L. Saunders is a sociologist and cultural studies scholar who is interested in the ways in which the African Diaspora throughout the Americas uses the arts as a tool for social change, specifically through decolonizing systems of thinking and knowing in the Americas. Dr. Saunders was a Mark Claster Mamolen Fellow (2022) at Harvard University's Hutchins Center for African & American Research, where they began working on their book tentatively entitled Estéticas do Bapho: Queering Black Brazilian Artivism and Politics of Liberation.
As a 2011-2012 Fulbright scholar to Brazil, Saunders began work on their current project about Black Queer Artivism in Brazil. They hold a Ph.D. in Sociology from the University of Michigan, Ann Arbor, and a Master of International Development Policy from the Gerald R. Ford School of Public Policy. They were also a co-recipient of two Abdias do Nascimento Awards funded by CAPES in Brazil.
Dr. Saunders' 2015 book entitled Cuban Underground Hip Hop: Black Thoughts, Black Revolution, Black Modernity was published by the University of Texas Press. The Portuguese version of the book was released by Editora Editus as Modernidade Negra: hip hop, artivismo e mudança social em Havana. They are also the director of the film project entitled Afro Feminismos em Cuba which is currently streamed on YouTube. They have published and lectured extensively throughout Latin America and the Caribbean.