Congratulations to Paula Botelho on her third book!
Brazilian Music in The New York Times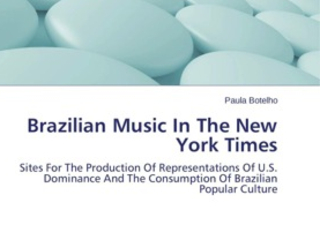 Paula Botelho is excited to announce the publishing of her third book entitled
Brazilian music in The New York Times: Sites for the production of representations of U.S. dominance and the consumption of Brazilian popular culture
. Occupational therapist, teacher, translator and consultant in intercultural communication, the author holds a Ph.D. in Language, Literacy and Culture (UMBC) and an M.A. in Education (UFMG). International and return migration are her main fields of work and reflection, and she collaborates at a NGO on projects for Haitians and other migrants.
This study explores the meanings and uses of representations of Brazil and Brazilian-ness, through the analysis of music reviews and news in The New York Times and other U.S. newspapers. It analyzes how cultural dominance is disseminated and how it relates to the theme of consumption. Representations function as subtexts that legitimize Brazilian cultural products and actors that are closer to Euro-American forms of culture, founded in categories of race, gender, social class, and social behavior. They also promote the modernity and cosmopolitanism of the U.S. and imply the traditionalism of Brazil, except when Brazilian cultural forms resemble American-European models. The book is currently available on
www.morebook.de
and can also be purchased on
Amazon
. 
Congratulations Paula!