Much Ado About Nothing: Feb 20-March 2
Directed by LLC doctoral student Shirley Basfield Dunlap
February 21, 2014 8:12 PM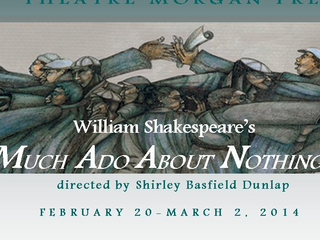 S/He loves me; S/He loves me not! is the sought after answer in the humorous meditations on honor, shame and court politics. Much Ado About Nothing is considered the best of Shakespeare's comedies. To be presented in late 1920s when swing was in, giving a jazzy edge to this romantic comedy.
Directed by Shirley Basfield Dunlap with guest choreographers award-winning Master Swing Dancers Lewis Neal and Leslie Mallory, this production of Much Ado About Nothing will be something else!
FEBRUARY
Thursday, 20th -10:30am Student Matinee*
Friday, 21st -7:30pm
Saturday, 22nd -2:00pm & 7:30pm
Sunday, 23rd- 3:00pm
Friday, 28th -7:30pm
MARCH
Saturday, 1st -2:00pm & 7:30pm
Sunday, 2nd- 3:00pm
TICKETS
Gen'l Admission: $15
MSU Students, Faculty, Staff: $5
Seniors & Non-MSU Students: $10
Group rate for gen'l admission (10+): $10
*Student Matinee- $5 per student/chaperone (call box office to reserve)
Call the Murphy Fine Arts Center Box Office for ticket information: (443)885-4440
Performances will be held in the Murphy Fine Arts Center's Turpin-Lamb Theater
Morgan State University, 2201 Argonne Drive; Baltimore, MD  21251
For more information about Morgan State University's theatrical season, click
here
.