GRC (Graduate Research Conference) Updates
Register To Attend & Submit Abstracts By (3/1)
February 13, 2014 3:40 PM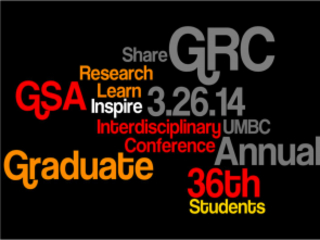 The official date of the 36th Annual Graduate Research Conference (GRC) is Wednesday, March 26th, 2014!
The GRC (Graduate Research Conference) is an annual GSA event intended to showcase graduate students and their work on our campus.  For new graduate students it offers the opportunity to learn effective presentation skills.  It also gives graduate students who have current projects with an opportunity to learn how to communicate the importance of their work to those outside of their fields.
ATTENDEES:  Registration to attend the conference can be found
here
.
PRESENTERS:  Final registrations and abstract are due by March 1st.More information for presenters on how to register and submit your abstracts can be found on the
"Presenters"
page.
JUDGES: Information and registration to Judge presentations at GRC is available on our
"Judges"
page.
Hosted Events:
Pathways Through Graduate School Panel
More information to come soon.
For more information on this event, click
here
.