Career Paths for Graduate Students
Looking for a job? Networking opportunity!!!!
Thursday, April 8, 2021
2:30 PM – 4:30 PM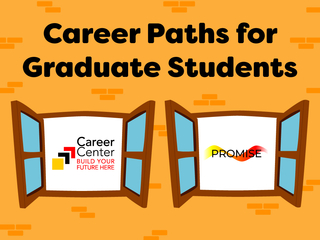 If you are a current graduate student or postdoc at UMBC and are looking for career path possibilities or searching for job opportunities we would like to invite you to join this event.
Career Paths for Graduate Students 
Thursday, April 8, 2021 from 2:30 PM - 4:30 PM
This networking event offers the opportunity to have discussions with employers who hire candidates with advanced degrees, giving the candidates opportunities to learn about the application process, the job opportunities in the company, current openings, expectations and more! Many of the representatives are UMBC alumni or part of organizations that hire UMBC alumni. The list of companies will be updated before the event.
Upload your CV or resume!
We strongly recommend graduate students to have their resume reviewed by a Career Center advisor and to make sure their profile is updated in their UMBC Works account. Please keep a copy of your resume available in your email. 
We will invite students to rotate at least by 3 different companies during the event. 
All of the organizations who are participating have job openings in a variety of fields, for graduate students in each of our three colleges, including Arts, Humanities, Social Sciences and all STEM (Science, Technology, Engineering and Mathematics) fields.
Update 04/08/2020
List of companies confirmed:
This event is co-sponsored by UMBC Career Center and Office of Graduate Student Development - PROMISE
All graduate students are invited to attend this event. Please RSVP by clicking the "Going" button below.
If you need any accommodations or have questions please contact Miss Yarazeth Medina
yarazeth@umbc.edu
a week before the event date.