Critical Access Studies: Humanities Methods and Approaches
Humanities Forum with Aimi Hamraie
Thursday, April 8, 2021
4:00 PM – 5:30 PM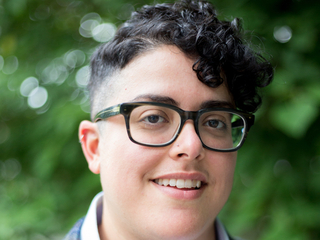 Critical Access Studies: Methods and Approaches from the Humanities
Aimi Hamraie, Associate Professor of Medicine, Health, & Society and American Studies, and Director of the Critical Design Lab, Vanderbilt University
This talk discusses the emerging field of "critical access studies," which builds on work in philosophy, history, rhetoric, and critical studies of design, science, and technology. Critical access studies examines the values underlying our common approaches to accessibility, as well as the means of achieving it, in order to better pursue the project of disability justice. Aimi Hamrie will also offer examples of critical accessibility work, grounded in humanistic approaches to design, from the Critical Design Lab at Vanderbilt University.
Speaker bio: Aimi Hamraie is Associate Professor of Medicine, Health, & Society and American Studies, and the director of the Critical Design Lab, at Vanderbilt University. They are author of Building Access: Universal Design and the Politics of Disability (University of Minnesota Press, 2017) and host of the Contra* podcast on disability, design justice, and the lifeworld.
Sponsored by the Dresher Center for the Humanities, the Department of Information Systems, the Department of American Studies, and the Office of Accessibility and Disability Services.
Photo provided by speaker.
[Image description: Aimi Hamraie, an olive-skinned Iranian person with short and dark curly hair, wears rectangular glasses, a blue and green jacket, and a blue shirt. They smile at the camera. In the background are blurred green trees.]