Information about LLC 750 English as a Global Language
Study Abroad Fair September 1 11-2 pm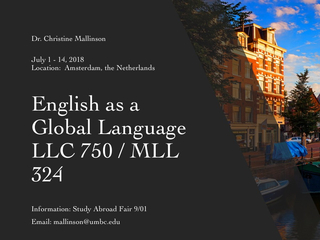 Come by the Commons on Friday, September 1, from 11am-2pm, to check out the Study Abroad fair. Tables will be set up in the Main Street area, across from the bookstore. 
Dr. Mallinson will be there to talk to students about her new course, "English as a Global Language," to be held in Amsterdam, July 2018!  See below for a description of the course.  Undergraduates and graduate students are welcome. The course must have a minimum of 10 students to run, so tell your friends!  
For those who cannot attend the fair, there will be four additional information sessions in the fall and early spring. Email Dr. Mallinson for more information. 
English as a Global Language

Dr. Christine Mallinson

July 1 - 14, 2018
Location:  Amsterdam, the Netherlands
Course Description
This course will explore how the English language developed over time and came to its current position of global usage.  We will examine the processes and effects of language contact, learning how, historically, English has been influenced by other languages and, more recently, how it has influenced other languages globally. In so doing, we will explore the pluralization of English into Englishes—its development from one imperial language into various nativized varieties of English around the world. As such, this course will emphasize the historical, political, and ideological issues of globalization, nativization, post-colonialism, and standardization. Via several case studies, we will examine language as a central mechanism in the construction of national, ethnic, and cultural identities and in the development of language policies; we will further apply this knowledge, particularly to current social and educational issues facing speakers of minority language varieties.