Queer Camping & Leadership Retreat
LGBTQ leadership goes rugged -- Apply today!
Fri, Apr 4, 2014 at 2:00 PM - Sun, Apr 6, 2014 at 2:00 PM
Off Campus : Elk Neck State Park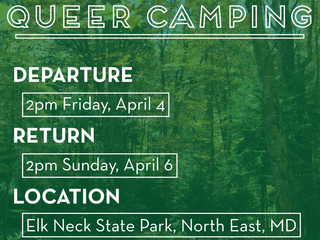 Transportation, food, and camping gear will be provided. A $50, refundable equipment rental deposit is required.
Learn more and APPLY TODAY at tinyurl.com/QueerCampingUMBC. Application closes 5pm, Thur, 3/27.