LLC Graduate Student Conference
"Rethinking Intellectual Activism"
The 1st Annual LLC Graduate Student Conference at UMBC
Saturday, April 12, 2014
Review By K.A. Wisniewski*
On April 12th, 2014, Emek Ergun and a committee of doctoral students in the Language, Literacy, and Culture PhD Program at UMBC held our first annual graduate student conference: "Rethinking Intellectual Activism."
The conference explored the potential meanings and practical implications of "intellectual activism," which as a political praxis of knowledge production, validation, and distribution, can take many different forms. By focusing on the notion of intellectual activism, the conference aimed to open a critical discursive space to question and re-imagine the role of the university in maintaining and/or disrupting the systems and operation of power within and through which the institution functions.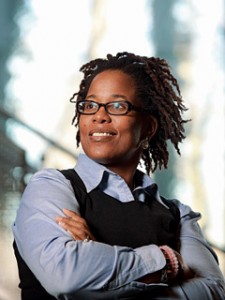 Dr. Kaye Wise Whitehead, Assistant Professor of Communications at Loyola University Maryland and graduate of the LLC program, gave an inspirational keynote talk centered around the term "magis" and asking us all, "What kind of scholar, what kind of person, do you want to be?"
Papers at the conference varied in topic from service learning and participatory action research to research on social justice movements and critical perspectives on race, gender, and ethnicity.
In addition, there were roundtables addressing issues and best practices for critical pedagogy and performances that asked attendees to reconsider not only how to talk about politics and how we live it, but, more broadly, what else can be done in the classroom (and beyond–as one dance by MICA's OluShola Cole demonstrated by taking her dance outside of the classroom, into the atrium and finally out of the building altogether) as well as what counts as scholarship.
A complete program of the conference is available here: Intellectual Activism Conference Program.
Some pictures taken at the conference are available here (thanks to Dr. Bill Schewbridge and the New Media Studio): LLC Conference Pictures
* This review appears originally on K.A. Wisniewski's blog