Ask BIG Questions - Understand Others. Understand Yourself
What have you learned so far? Join the discussion!
Friday, February 21, 2014
6:00 PM - 7:30 PM
The Commons : Main Street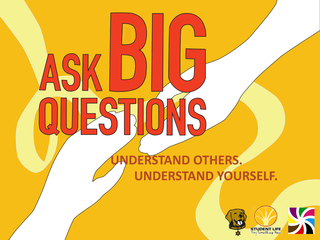 This is the first discussion for Spring 2014!!
Feb. 21st Topic - What have you learned so far? 
This event is open to the entire UMBC community.  Come join us for dinner and a great discussion!  
For more information, visit http://www.umbchillel.org/askbigquestions or contact mosaic@umbc.edu
Ask Big Questions is a collaboration between UMBC Hillel and Student Life's Mosaic Center.