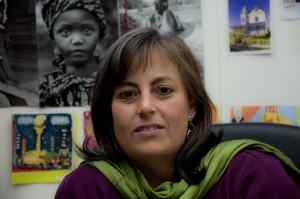 Claudia Galindo (galindo@umbc.edu) is an Associate Professor in the Language, Literacy, and Culture Ph.D. Program and Affiliate Associate Professor of Gender and Women Studies at UMBC in Baltimore, Maryland, US.  Her research focuses on educational inequality and the social context of education. Her work integrates the fields of sociology of education, educational policy, developmental psychology, and immigration. Her research examines children's cognitive and social-emotional development with particular attention to Latina/o children. She is deeply committed to conducting research that informs educational policy by studying key-mechanisms in the family and school environments that may counter minority children's educational disadvantages.
Recent publications include:
Hampden-Thompson, G. & Galindo, C. (2015) Family structure instability and the educational persistence of young people in England. British Educational Research Journal, 1-18.
Sanders, M. & Galindo, C. (2014) Communities,schools and teachers. In Bauserman, L. Martin, S. Kragler, & D. Quatroche  (Eds.) The Handbook of Professional Development, PK-12: Successful Models and Practices. New York, NY: Guilford Publishing.
Galindo, C. (2013) Math performance of young Mexican-American children. In A. Sawyer, & B. Jensen (Eds.), Regarding Educación: Mexican-American Schooling the 21st Century. New York, NY: Teachers College Press.
Sonnenschein, S., Galindo, C., Metzger, S. R. *, Thompson, J. A. *, Huang, H. H. *, & Lewis, H*. (2012). Parents' beliefs about children's math development and children's participation in math activities.. Child Development Research, 1-13.
Galindo, C. & Sheldon, S. (2012). School efforts to improve parental involvement and effects on students' achievement in kindergarten. Early Childhood Research Quarterly, 27, 90-103.
Jung, S., Fuller, B., & Galindo, C. (2012). Family functioning and early learning practices in immigrant homes. Child Development, 83(5), 1510-1526.
Epstein, J. Galindo, C. & Sheldon, S. (2011). Levels of leadership: Effects of district and school leaders on the quality of school programs of family and community involvement. Educational Administration Quarterly, 47, 462-495.
Galindo, C. & Pong, S. (2011). Tenth grade math achievement of Asian students: Are Asian students still the "Model Minority"?—A comparison of two educational cohorts. In X. L. Rong (Ed.), Asian American Education—Identities, Racial Issues, and Languages. Charlotte, NC:  Information Age Publishing Inc.
Galindo, C. & Fuller, B. (2010). The social competence of Latino kindergartners and growth in mathematical understanding. Developmental Psychology, 46, 579-592.